To log in to your Humanforce account you need to go to the URL (web address) for your particular company. It will be something like yourcompany.humanforce.com, humanforce.yourcompany.com or yourcompany.ttzeus.com
In New Zealand, you may be looking at yourcompany.humanforce.co.nz or 
yourcompany.timetarget.co.nz

If you don't know your company's Humanforce web address, ask your manager.
Note: you cannot log in to your Humanforce account on our marketing site at
humanforce.com, or here on the Help site.
This is the first screen you will see. To access the system, enter your employee code and password.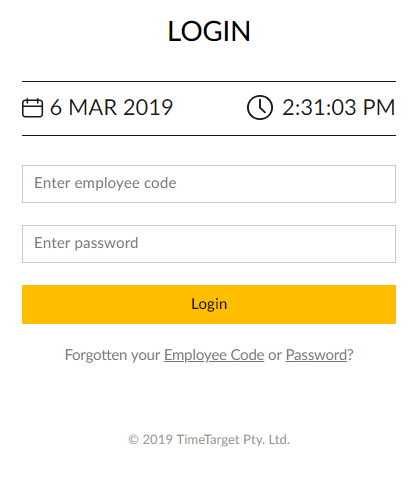 First time access
Your system administrator should provide your employee code and default password for your first login.
Forgotten code or password
There are links below the login button if you have forgotten your employee code or password. These options will send a message to the email address you have on file with payroll with either your code or a reset link.

Single Sign-on
For some companies, a Single Sign-on option may also be available.
Check how to go about this here.